renew car license post office, The South African Post Office (Sapo) has launched an online service (www.sapomvl.co.za) for the renewal of motor vehicle licenses from any mobile electronic device. the sapomvl meaning that south African post office motor vehicle renew has been launched which helps simplify the process for Renewing the car license without having to visit the offices directly. he full renewal process, including payment, will be done online, leaving only the last step of accessing the license disc.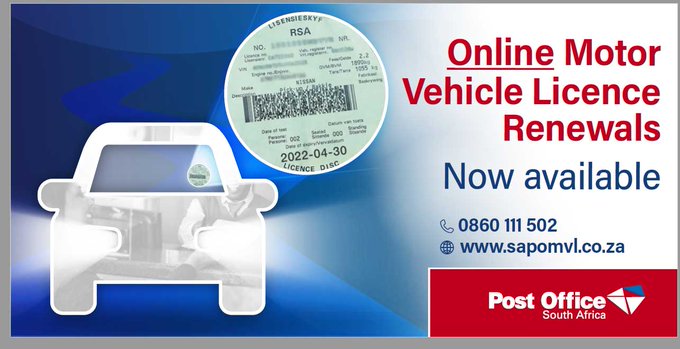 The licence disc can be delivered to the customer at an affordable delivery fee or it can be collected from a post office counter. Register now to renew your car licence at https://sapomvl.co.za. It's free and once-off – after that, paying your car licence is a breeze. (Not yet available in the Western Cape.) so are you looking for Renew car licence online service then this article is for you just read this article very careful to get all the information required.
Read: Natis.gov.za booking for Licence renewal form 2021
How to Renew car license | www.sapomvl.co.za
so here are the step by step guide on how to renew car license using the post office service (Sapo)
signup and Update Profile
upload the required documents
Select the delivery method
"The online application for the renewal of motor vehicle licences is the first step to turn the 'Sapo in my Pocket' strategy into reality and will enable the customer to complete the entire process in the comfort of their own homes or offices. "The online renewal process is quick and simple once a vehicle owner has completed the once-off registration process. The post office has taken all the necessary steps to ensure that customer data is secure
Register here and Renew car license with www.sapomvl.co.za
The post office also offers bulk motor vehicle licence renewal for fleet operators and business, both big and small. for more information concerning the Renew car license is south Africa. visit the SA post office social media profiles and check for new information concerning with the Renewal of car licence.