Pata Namba ya NIDA Kwa SMS, get your NIDA number Directly through your phone number Via SMS with no chargeable costs (free). the national identity card Authority has just expanded its services and now you nan get your NIDA number through SMS Read this article carefully to get your NIDA number through SMS.
Read also:-
remember this service is free you can check on the links above if you want to get your NIDA number using other methods, to get Namba ya NIDA Kwa SMS. make sure you put the correct details. to avoid getting an error, this services will simplify on how we get NIN nida Number, without going to Regional offices.
Namba ya NIDA Kwa SMS | How to get NIDA number through SMS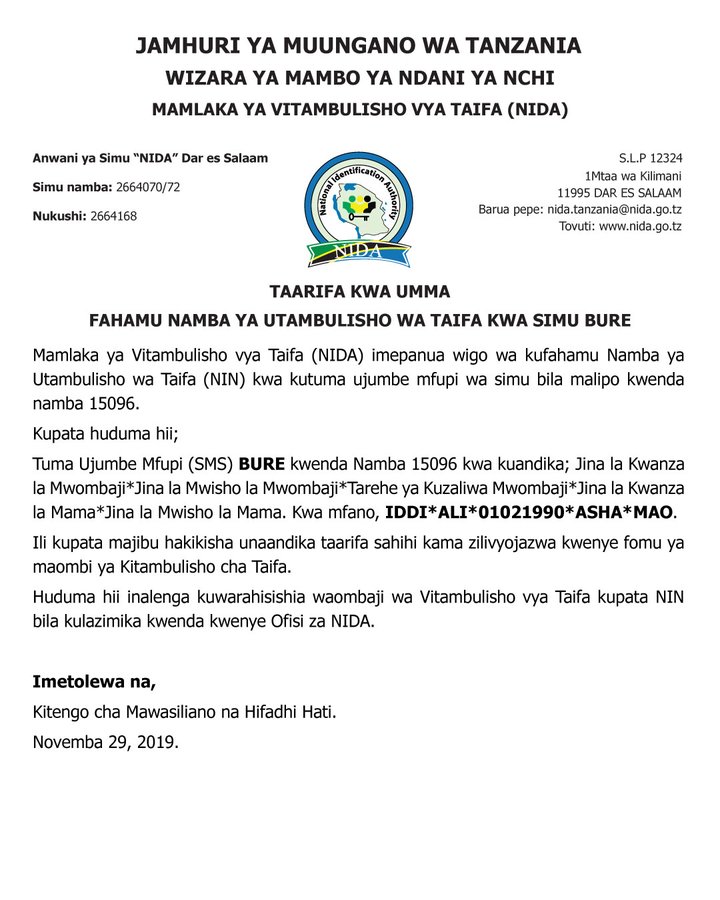 If you have a mobile phone and you want to get Namba ya nida kwa sms you can Dial the USSD code just follow the steps below:-
Dial * 152 * 00 #
Select number 3
Then select 2
Please enter your full name (first, middle and last name, for example Dan John Sele)
Enter your mobile phone number, the one used during registration for national identification.
Agree to pay the necessary charges
This service is no longer accessible huduma hii ya kuangalia namba ya nida kwa sms using USSD code just use the methods which has been explained using the photo above make sure to fill the correct details as have been explained you can follow this path
Your first name* your last name* Date if birth* your mother first name * your mother last name Then send this SMS to 15096 Then your NIDA number will be replied just shortly.
 Example: IMA*ALI*31071980*EVA*DEO SMS to 15096 if you face any challenge Try to contact NIDA Huduma kwa wateja Kituo cha Huduma kwa Mteja 0752 000 058, 0687 088 888, 0777 740 006 au 0677 146 666 and they will help you regarding your problem.
thus Your NIDA number will be sent to Through SMS, visit the NIDA services website for more information if you have any question regarding the NIDA number you can just comment below and we will get back to you soon.
Tags: jinsi ya kupata namba ya nida, namba ya nida kwa kutumia sms