maombi ya kazi ya sensa 2022, Fomu ya maombi ya sensa 2022 The Tanzania goverment just announced Nafasi za kazi sensa 2022 so this article contains all the information regarding the maombi ya kazi ya sensa 2022 so read this article very careful to get all the information required.
The Government of the United Republic of Tanzania plans to conduct a Population and Housing Census by August 2022. The Ministry of Finance and Planning through the National Bureau of Statistics (NBS) in collaboration with the Office of the Chief Statistician of Zanzibar (OCGS), is in the process of preparing to conduct the Census.
Mfumo wa maombi ya kazi ya sensa 2022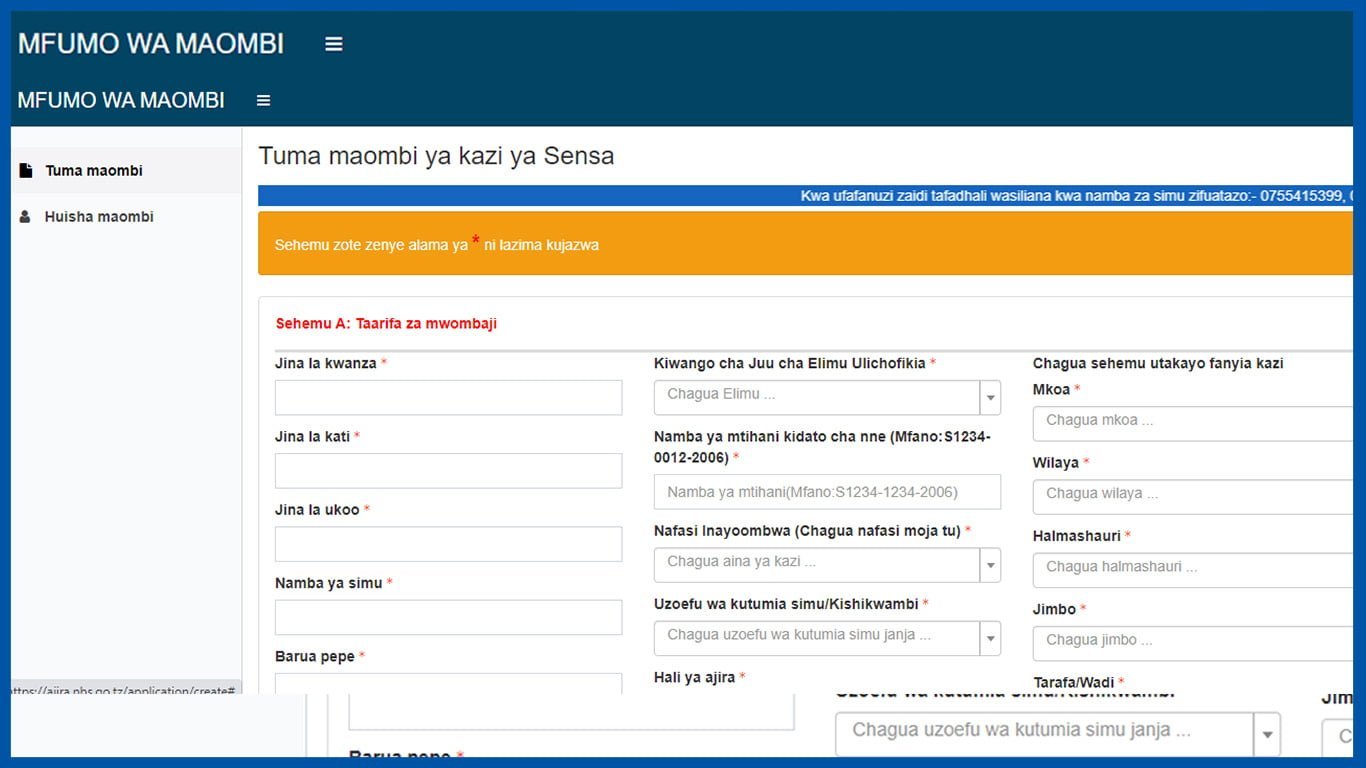 The process of application must be done online through the ajira nbs portal (https://ajira.nbs.go.tz)
The Population and Housing Census is a national exercise conducted every 10 years where the last census to be held in the country is the one in 2012. Thus the Census 2022 will be the Sixth Census to be held in the country after the Union of Tanganyika and Zanzibar in 1964. Census others took place in 1967, 1978, 1988, 2002 and 2012
Speaking at the launch of the Population and Housing Census Emblem held on Thursday, April 08 2022, Census Chairperson Retired Speaker of Parliament Anna Makinda said that after the inauguration exercise, the next step is to get the Census Clerk. Makarani wa Sensa
"Mr. President, Preparation for the census has been going on for a long time, and preparations are still underway and we are fine so far, The next step after this launch is to get the census clerks, followed by the training of those clerks, and the next thing is the employment of the clerks themselves" Said Makinda
Anna Makinda has said that the employment of clerks (Ajira za Sensa) this trip is done where they live those clerks,
"We have information that there are people who posted on the internet to hire clerks but not us, we will be hired where they live," said Makinda.
Be updates by visiting this website we will update all process required to get Census application fomu maombi ya sensa 2022 for more information also about maombi ya kazi ya sensa 2022 visit https://www.nbs.go.tz/