ajira nbs go tz Sensa 2022, Ajira za sensa has been announced applicants should apply through https://ajira.nbs.go.tz this article will guide you on how you can apply for the nbs census jobs 2022 so read this article very careful to get all the information required. Sensa Job Application is done Online, The applicant required to fill the online form and submit their application. the deadline for application is May 19 2022.
Read: maombi ya kazi ya sensa 2022
Mfumo wa maombi ya kazi za sensa : ajira nbs go tz Sensa 2022
To start the application just visit the website https://ajira.nbs.go.tz/application/create then fill the form very careful, bear in mind that with the * keyword is mandatory to be filled, the application form is divided as follows following the parts
Part A: Applicant Information
First name
Middle name
Surname
Telephone number
Email
Date of birth (As in birth certificate)
Higher Level of Education Achieved
Form Four Examination Number (Example: S1234-0012-2006)
Test Number (Example: S1234-1234-2006)
Requested Position (Select only one position)
Phone / Kishikwambi experience
Employment status
National Identification Number as on NIDA card
NIDA Number (Example: 19900102-12345-00001-12)
Choose the area in which you will work
Province
District
Council
State
Division / Ward
Kata / Shehia
Village / Street
Part B: Sponsor information
Three names of first sponsor
Email of first sponsor
Phone number of the first sponsor
Three names of second sponsor
Email of second sponsor
Phone number of the second sponsor
Section C: Attachments
Form Four Certificate (PDF)
Birth Certificate (PDF)
Other Appendix (Example ICT Certificate, e.t.c) PDF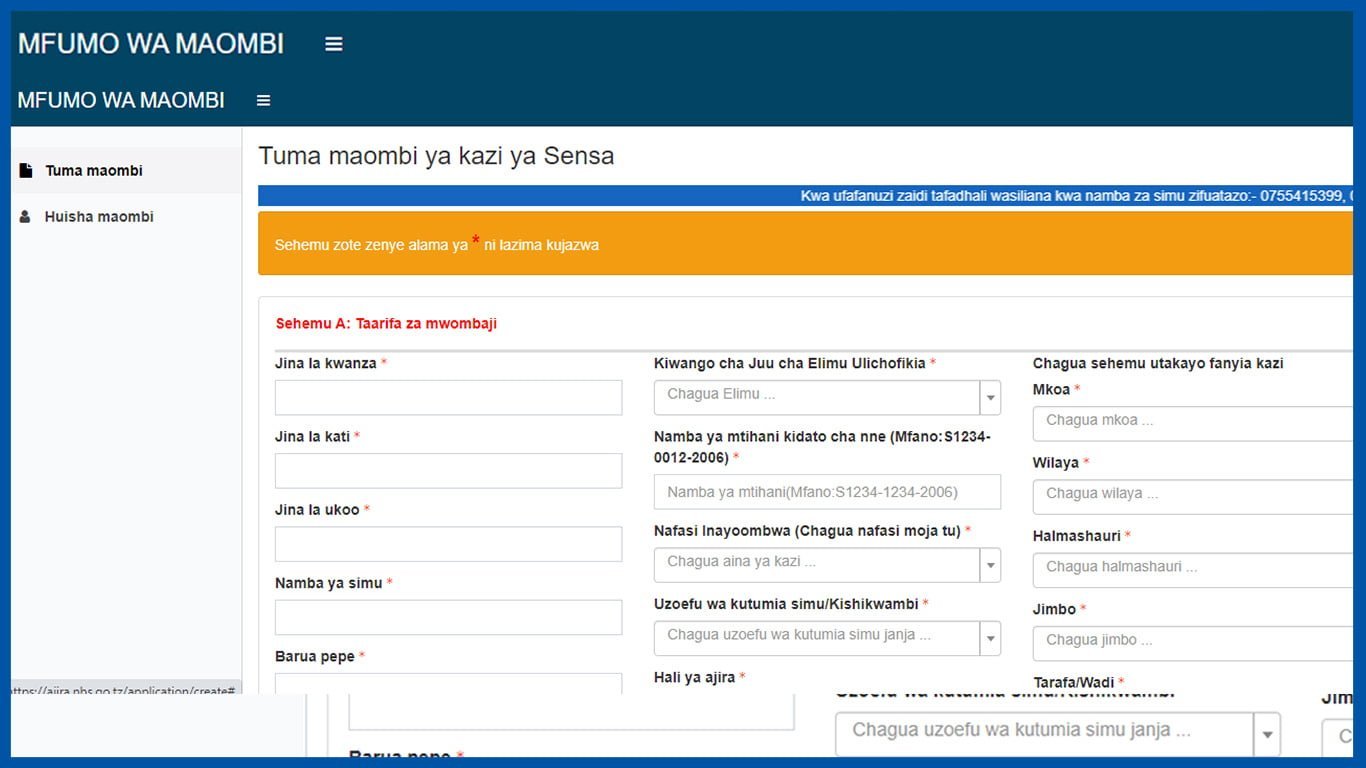 The form ajira nbs go tz has been created by the Tanzania National Bureau of Statistics (NBS) for more information you can call the department using the following line 0755415399, 0673073832 or 0754864441
The Minister Simbachawene Said the process of analyzing job applications and interviews will be overseen by a special committee to be set up at each district level and interviews will be conducted at the county level for positions of clerks and content managers and at the district level for ICT supervisors, "concluded Hon. chawene, Regarding the application process, Simbachawene noted that applicants will be required to submit their applications online which will not involve any payment to the job applicant.
NB: if your trying to access The website ajira.nbs.go.tz and found that the site isn't working then this can be due to a lot of people are trying to access it at the same time refreshing your browser, or try during the midnight where there is low traffic and you will be able to access it.
ajira nbs go tz login
After you have completed with the registration process then, you can login to your account, our website myajiratoday.com will be providing all the updates regarding the job The online application system is available at the following websites; www.pmo.go.tz, www.tamisemi.go.tz, www.nbs.go.tz for Mainland Tanzania and www.ompr.go.tz, https: //www.tamisemim.go.tz or www.ocgs.go.tz for those applying for Tanzania Zanzibar,
Tags: ajira za sensa, ajira.nbs.go.tz